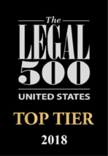 Legal 500 United States 2018 edition named CLL in the Top Tier nationally for Copyright law.
05.31.2018
The Legal 500 United States named CLL nationally as a Top-Tier firm in Tier 1 for Copyright law. It also recommended the firm in Tier 2 for Trademark Prosecution, Portfolio Management and Licensing, and in Tier 3 for Trademark Litigation. Its elite "Leading Lawyers" list of outstanding lawyers nationwide named Richard Dannay for Copyright and William Borchard for Trademarks. Also individually mentioned were Mary Donovan, Robert English, Jeffrey Epstein, Lynn Fruchter, Christopher Jensen, Jonathan King, Mary Kevlin, Thomas Kjellberg, Richard Mandel, Meichelle MacGregor, Eric Shimanoff, and Deborah Squiers. See more Honors & Rankings.
Noted for its 'outstanding industry knowledge' and 'consistent response times'[for trademark prosecution], . . .The 'excellent' and 'impressive' New York-based group at Cowan, Liebowitz & Latman, PC is often called upon to assist clients with high-profile litigation. . . .With 'outstanding industry knowledge and great business acumen', Cowan, Liebowitz & Latman, PC's New York copyright practice handles both advisory work and high-profile litigation for clients in the book and music publishing industries. It also has experience in fashion-related copyright matters.