In Memoriam - Raymond Lewis Gable (1937 - 2018)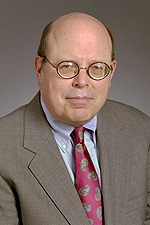 We mourn the loss of our friend and colleague R. Lewis (Lew) Gable, who passed away on April 22, 2018.
After graduating with a law degree from George Washington University Law School in 1963, Lew began his career in patent law as a patent examiner with the U.S. Patent and Trademark Office (USPTO). Later, Lew entered private practice and ultimately joined our firm in 1996. With a technical background in electrical engineering, Lew handled patents relating to electronics and computer hardware technologies, among others. Shortly after the Federal Circuit's 1998 landmark decision in State Street Bank, which led to a great increase in software and business method patents, Lew became one of the country's leading experts in preparing and prosecuting these types of patents before the USPTO.
Lew was always interested in computer technology and authored articles with such titles as "The Strength of Patent Protection for Computer Products" and "Artificial Intelligence: Protection Mechanisms on the New Frontier (What Are and How to Protect Expert Systems?)." Notable patents that Lew secured covered novel auctioning techniques conducted over the Internet, loyalty rewards programs, and methodologies for purchasing custom-designed merchandise over the Internet.
Lew was an active member of the American Intellectual Property Law Association (AIPLA). He served as Chair of the AIPLA's Committee on Electronic and Computer Law, regularly contributed articles to AIPLA, and on occasion spoke at AIPLA conferences. In 2000, Lew authored the Statutory Inventions Chapter in the BNA Treatise, Electronic and Software Patents: Law and Practice, and provided updates for the annually published treatise each year for about a decade.
Lew retired from the firm in 2009.
Lew is survived by his beloved wife, Carol (nee Abatemarco), his loving sons Nathan, Mark (Michelle), Matt, daughter Barbra and three cherished grandchildren, Gillian, Lucas and Nick. Lew will be missed by all.
Below is information about Lew's viewing and funeral:
Wake - Friday April 27, 2018 from 4 to 8 PM
Coxe & Graziano Funeral Home - 767 E Boston Post Road, Mamaroneck, NY 10543 — Phone (914) 698-5968
Funeral - Saturday April 28, 2018 at 10 AM
Mamaroneck United Methodist Church - 546 E Boston Post Road, Mamaroneck, NY 10543 — Phone (914) 698-4343
Burial - Greenwood Union Cemetery 215 North Street, Rye, New York 10580
Burial immediately following funeral service.
Flowers/Donations - Lew's family requests charitable donations instead of flowers, preferably to Alzheimer's Foundation of America in honor of Lew Gable. For more information or to place an online condolence, go to coxeandgraziano.com.