We Won an American Web Design Award!
05.19.2017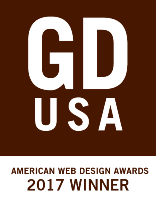 Our firm's website won an American Web Design Award in a competition sponsored by Graphic Design USA, a business-to-business magazine for graphic design professionals
There were 1,400 entries. 15% of the entrants received awards. Other winners include AARP, American Academy of Dermatology, Coca-Cola, Duke University, Experian, FDA, HBO, Intelsat, Lowe's, MassMutual, Neilsen, NIH, PepsiCo, Stanley Black & Decker, SONY, State of Virginia, United Technologies, USOC, White & Case, and Zipcar.