Valentines's Day Greetings
02.14.2018
We bring you several trademark decisions in disputes involving marks relevant to Valentine's Day. Although there was no love lost between the parties to these proceedings, we hope those parties at least had warmhearted feelings towards their respective lawyers, although we were not involved in any of these cases. We similarly hope and believe that our clients feel a fondness for us.


1. Quarreling Hearts
In September 2013, Lovetap, LLC marketed software for tracking and predicting menstrual cycles, ovulation, fertility, and women's health and wellness issues using a Heart Design for which it was issued a federal trademark registration.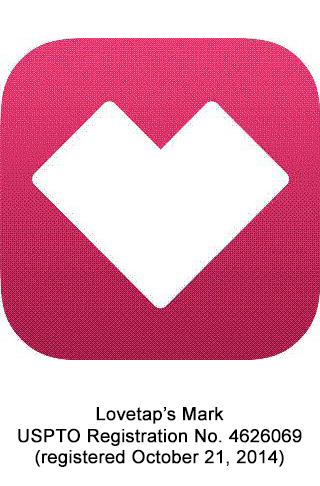 CVS, which operates a massive drugstore chain and prescription drug insurer, rebranded its corporate identity. It applied to register 26 trademarks that included a geometric heart design, eleven of which became registered.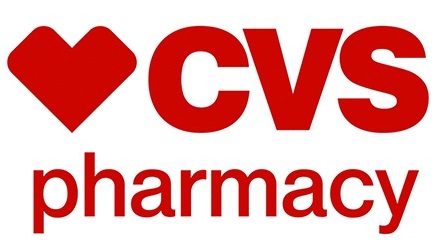 Lovetap brought suit in the US District Court for the Northern District of Georgia, Atlanta Division, alleging trademark infringement under federal and state law and dilution under state law (claiming that the CVS mark would be likely to blur the distinctiveness of the Lovetap mark).
CVS, citing its principal register registrations, sought dismissal of the state dilution claim based on Section 43 (c) (6) of the Trademark Law, which says that "[t}he ownership by a person of a valid registration . . . on the principal register under this chapter shall be a complete bar to" a state law dilution claim. [Emphasis added]. Lovetap had challenged the validity of the CVS federal trademark registrations and had sought to cancel them. If successful, the CVS registrations would not be "valid," and its defense against the state dilution claim would be vitiated.

CVS tried to argue around this by saying that the "practical effect" of denying its defense would be contrary to the "congressional intent" to incentivize federal registration and to prevent the states from regulating the use of federally registered marks. In view of the plain language of the law, the Court rejected what it termed this "super defense" argument by CVS, and denied its motion to dismiss the state dilution claim. Lovetap, LLC v. CVS Health Corp., No. 1:16-cv-3530 (N. D. Ga. 2017).

2. Unwanted Kisses
JL Beverage manufactured, sold and promoted a line of flavored and unflavored vodka called "Johnny Love Vodka." Since 2005, it had used a design of "sexy lips" in various colors depending on the flavor, on the labels and tops of its bottles, and it federally registered two design marks.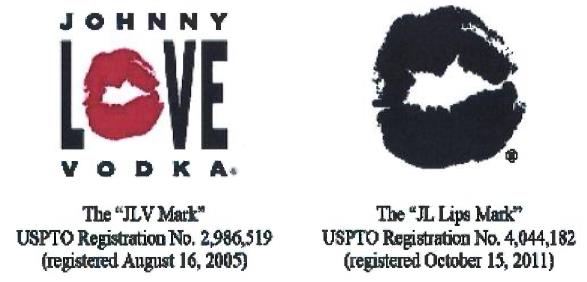 In 2011, Jim Beam brought out a relabeled line of flavored vodkas called PUCKER VODKA. The labels of its bottles, designed by an outside firm, also used a prominent lips image in various colors depending on the flavor. Beam withdrew an application to register its lips design mark after discovering the JL Lips Mark on iStockphoto and after the US Patent and Trademark Office had cited the JL Lips registration against the Jim Beam application.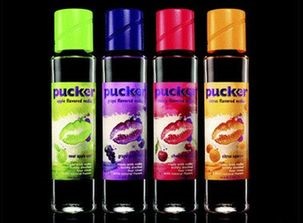 JL Beverage sued Jim Beam for trademark infringement and both parties moved for summary judgment. The US District Court for the District of Nevada denied JL Beverage's motion for judgment and granted Jim Beam's motion to dismiss. JL Beverage appealed to the US Court of Appeals for the Ninth Circuit.
The Ninth Circuit reversed and remanded for a technical reason. It ruled that the district court had wrongly applied the standard for a preliminary judgment in which the moving party bears the burden of proving its claims. The proper standard also would require the moving party to establish that no genuine dispute of material fact exists and require the court to weigh the evidence in the light most favorable to the non-moving party.
In this case, the Ninth Circuit ruled that a reasonable fact-finder could conclude that the Jim Beam mark was infringing, so it sent the case back for further proceedings so the district court could determine whether, in the light most favorable to JL Beverage, there is no genuine dispute of material fact as to the likelihood of confusion. JL Beverage Company, LLC v. Jim Beam Brands Co., No. 13-17382 (D.C. No. 2:11-cv-00417) (9th Cir. 2016).

Editors Note: In subsequent decisions, the District Court limited JL Beverage to seeking the disgorgement of Beam's profits, 2017 U.S. Dist. LEXIS 135696 (D. Nev. August 24, 2017), and it held that JL Beverage was not entitled to a jury trial on its claim for this remedy, 2017 U.S. Dist. LEXIS 184028 (D. Nev. November 7, 2017).

3. Love in Disharmony
Marilyn D. Mintz used the phrase "A World of Love, for You and Those You Love" in connection with calendars and other publications distributed at trade shows. She brought suit in the US District Court for the Northern District of California against Subaru of America, Inc. alleging that Subaru's advertisements using the phrase "Share the Love" in connection with vehicles infringed her intellectual property rights. Subaru moved to dismiss the suit on the pleadings. The district court granted Subaru's motion and Mintz appealed.
The Ninth Circuit affirmed the dismissal, finding among other things, that (1) the phrases are entirely dissimilar and only share the generic word "Love," which could not be trademarked on its own and could not possibly be the ground for an infringement claim, and (2) the illustrations in which Mintz claimed rights were not similar in any manner other than the common symbol of a human hand with a heart drawn on its palm. Mintz v. Subaru of America, Inc., 16-16840 (9th Cir. 2017).

4. Is "Love" an ingredient of granola?
Believe it or not, the US Food & Drug Administration (FDA) issued a warning letter to the Nashoba Brook Bakery, LLC in Concord, Massachusetts, stating, in part, that the Nashoba Granola product was misbranded because its label listed "Love" as an ingredient.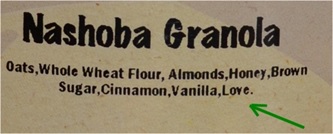 The FDA pointed out that "Love" is not a common or usual name of an ingredient, and that it considered the listing of "Love" to be the type of material that could detract from required label content.
One of the owners of the bakery reportedly said that "Love" had been listed on the label for nearly 20 years to reflect the care it put into its product, and that the bakery would comply although it was not very happy about it. Nashua Brook Bakery, LLC, Warning Letter CMS# 532236 (F.D.A. September 22, 2017).
We wish our clients and friends a strife-free Valentine's Day. However, we stand ready to assist should they become entangled in any intellectual property disputes, either with another party or a government agency.