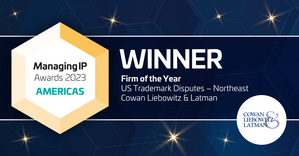 Cowan, Liebowitz & Latman Named 2023 Firm of the Year for Trademark Disputes (Northeast) by Managing IP
05.03.2023
Managing Intellectual Property recognized Cowan, Liebowitz & Latman (CLL) as Firm of the Year – Trademark Disputes (Northeast) at its Awards 2023 Americas ceremony held at the JW Marriott Essex House in New York on April 27, 2023. CLL was also named a winner in the Impact Cases of the Year category for its handling of the Meenaxi Enterprise, Inc. v. The Coca-Cola Company Federal Circuit appeal. In addition, CLL was short-listed in the category of Firm of the Year - Trademark Prosecution (Northeast), and CLL attorney Richard Mandel was short-listed in the category of Litigator of the Year - New York. CLL partners, Kieran Doyle, Richard Mandel, Joel Karni Schmidt, Deborah Squiers, and Anastasia Zhadina attended the awards ceremony.
Managing IP is a leading news and analysis service catering to intellectual property professionals worldwide. The Managing IP Awards event is considered to be "the most comprehensive and widely respected IP law firm awards event in the legal industry," covering several IP practice areas and more than 50 jurisdictions. Managing IP's research teams "obtain information from thousands of firms, IP practitioners and their clients through interviews, email and online surveys" and also look for case studies that were of great significance to clients and/or IP law and practice.
See more Honors & Rankings.