Brewing Industry Update
Spring, 2018
By Robert J. English and William M. Borchard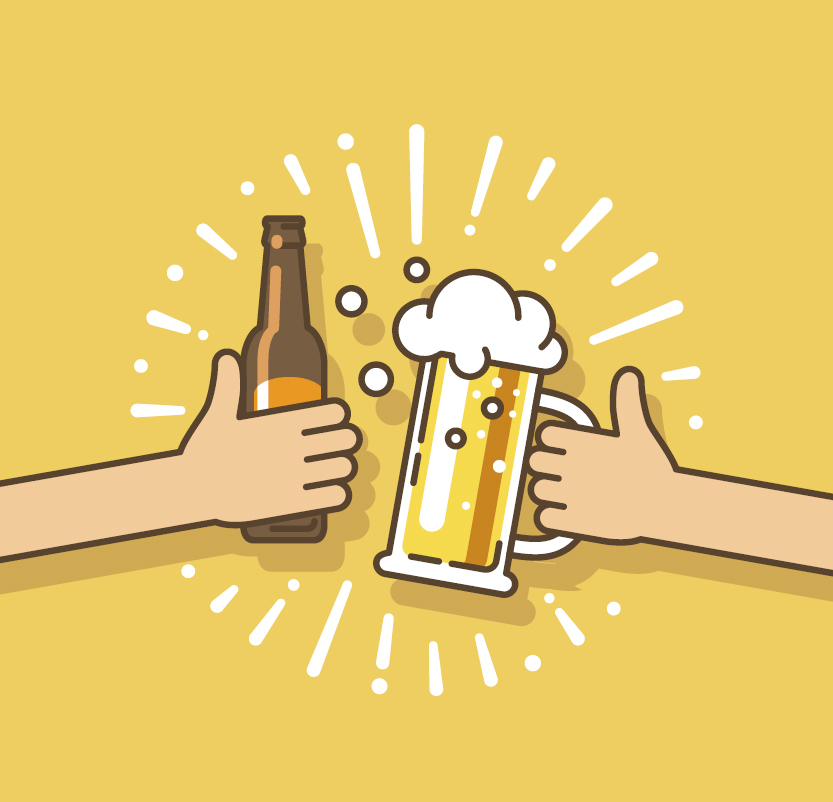 We are pleased to summarize cases exemplifying a few of the trademark issues currently fermenting in the brewing industry.
Choose a protectable term as your trademark
The increasing popularity of beer--craft beer in particular--makes it important for each brewery to communicate to consumers that its beer is unique and distinguishable from competing products.
One way of doing this is through the selection and protection of a strong and appealing trademark rather than a generic or merely descriptive name, which may not be exclusive to you.
Can a lawyer be the only CRAFT BEER ATTORNEY?

A California corporation named The Craft Beer Attorney, APC filed an application to register CRAFT BEER ATTORNEY in plain letters as a mark for "legal services," claiming that it had used this term as a mark for about six years and filing a specimen of use showing the above mark.
The Trademark Office's examining attorney initially refused registration on the ground that "craft beer attorney" is generic or at least merely descriptive of the applicant's legal services without having been shown to have become distinctive of them. The applicant presented various arguments, and it persuaded the examiner to allow this application to be published for opposition.
Eleven different law firms having clients in the craft beer field opposed the registration of this mark, and the Trademark Trial and Appeal Board (TTAB) consolidated the opposition proceedings. The opposers claimed that "craft beer attorney" is generic and should be freely available for use by all such attorneys.
The applicant bowed to the pressure and withdrew its application. However, it did not seek the consent of the opposers, so the TTAB followed its standard procedure and issued a final judgment against the applicant. Funkhouser Vegosen Liebman & Dunn Ltd. v. The Craft Beer Attorney, APC, Opposition No. 91227647 (parent) (T.T.A.B. 2017).
Lesson: Don't choose a generic name as your trademark.
Can a malt processor have the only MECHANICALLY FLOOR-MALTED malt and process?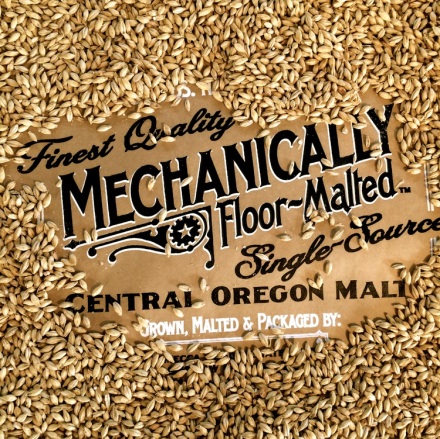 Mecca Grade Growers, LLC, applied to register MECHANICALLY FLOOR-MALTED (in plain letters) for malt for brewing and distilling and for the processing of agricultural grain, and filed a specimen of use showing the above mark. The examiner refused registration on the ground that "mechanically floor malted" was merely descriptive of the goods and services, and further, was generic for them. The applicant appealed.
The TTAB affirmed on both issues. It pointed out that the applicant's own explanatory text made it clear that it produced a specific type of malt known as "floor-malted" and that its process substituted mechanization for traditional techniques. Thus, the proposed mark immediately conveyed the nature of the applicant's goods and services without requiring any thought or imagination, and the customers in the brewing and distilling business would be likely to know this.
Even though the applicant might have been the first to use this precise phrase, or even be the creator of a new mechanized process for producing floor malt, this still would not change the relevant public's understanding that this is a generic term. In re Mecca Grade Growers, LLC, Application No. 86358219 (T.T.A.B. 2018).
Lesson: Even If you are first on the market with a unique product or service, be sure also to adopt a generic name to describe your product (even if you have to make one up) in addition to the trademark you select to identify your product's source.
Can a brewery have the only VANILLA JAVA PORTER?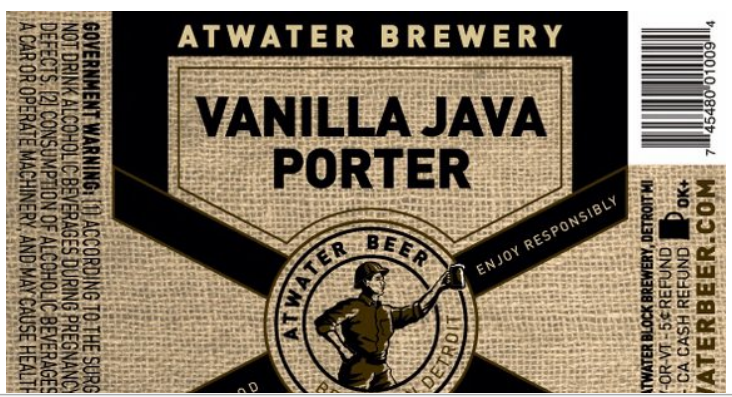 In a similar vein, Detroit Rivertown Brewing Company, LLC (doing business as Atwater Brewery) used and applied to register VANILLA JAVA PORTER (with the exclusive right to "porter" disclaimed apart from the mark as a whole) as a trademark for beer with a specimen of use showing the above mark. The applicant's own website said "The beer, vanilla & coffee tumble together, enhancing the smooth nature of each."
The applicant argued that, even though its mark was merely descriptive of the product or its ingredients, this term had acquired distinctiveness because the relevant public understood its primary significance to identify the source of the product. The examiner was not persuaded and refused registration.
The TTAB affirmed, saying that this mark was so highly descriptive that even ten years of substantially exclusive and continuous use was insufficient by itself to establish acquired distinctiveness. It further found that $5 million in retail sales and $250,000 in advertising over that period also was insufficient. In re Detroit Rivertown Brewing Co., LLC, Application No. 86640818 (T.T.A.B. 2017).
Lesson: If you choose a merely descriptive mark, be prepared to spend heavily to obtain enforceable exclusive rights. Further, be aware that, even if you could register your mark, anyone else would still have the right to use the same wording, other than as a mark, fairly and in good faith merely to describe its own product.
Be aware of the competition
As the craft beer market gets more crowded, disputes will increase.
Stone Brewing Co., LLC, a pioneer in the craft beer market, started to sell beer under the mark STONE in the 1990's.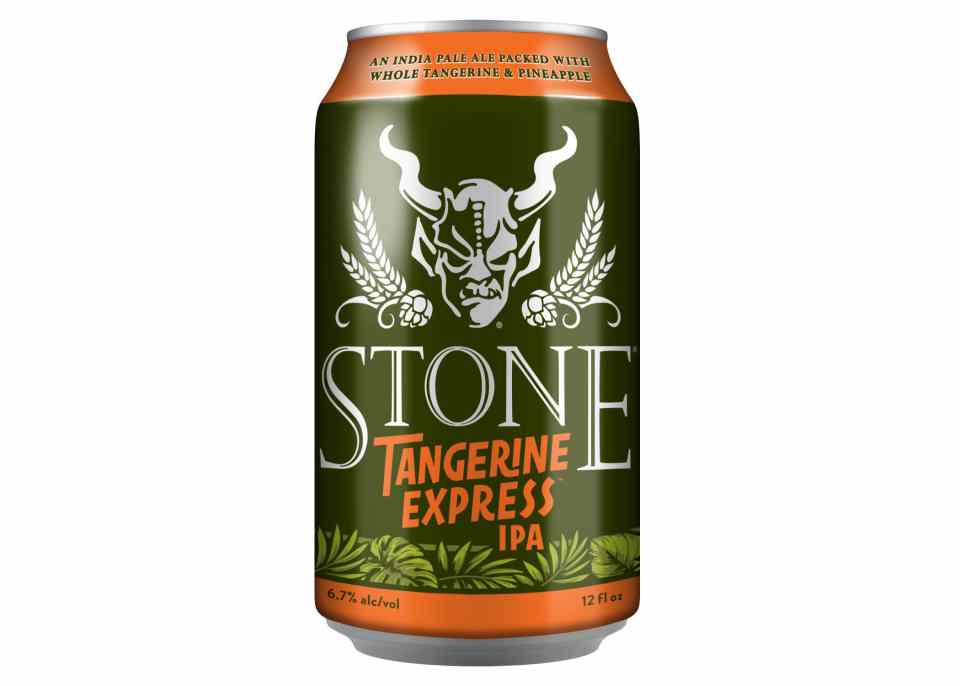 At that time, MillerCoors (now owned by Molson Coors) was already selling KEYSTONE LIGHT beer.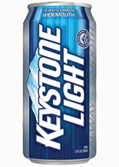 Stone Brewing registered its STONE mark for beer, and it now claims to have grown to be the ninth-largest independent craft brewer in the United States. Thereafter, MillerCoors applied to register STONES for beer, but abandoned that application when the Stone Brewing registration was cited against it.
However, in 2017, MillerCoors redesigned its beer, announcing that it was launching a rebranding advertising campaign with a can that plays up the "Stone" nickname.
Stone Brewing saw this as a threat to its business, and brought suit in the U.S. District Court for the Southern District of California. In its complaint, Stone Brewing playfully identified itself at times by its "Gargoyle" image, because it uses various gargoyle logos, and it alleged,
"Since 1996, the incontestable STONE® mark has represented a promise to beer lovers that each STONE® beer, brewed under the Gargoyle's watchful eye, is devoted to craft and quality. Like all Gargoyles, it is slow to anger and seeks a respectful, live-and-let-live relationship with its peers and colleagues – even those purveying beers akin to watered-down mineral spirits. But Stone and Gargoyle cannot abide MillerCoors's efforts to mislead beer drinkers and sully (or steal) what STONE® stands for."
Stone Brewing portrayed the redesigned Keystone can this way:

MillerCoors filed a formal answer to Stone Brewing's complaint generally denying Stone's allegations, and it took the unusual opportunity of preceding its answer with a lengthy set of counterclaims seeking a declaratory judgment in its favor.
MillerCoors portrayed its redesigned Keystone can from a different perspective: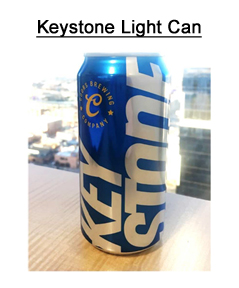 Further, among other things, MillerCoors alleged that it and its customers had long referred to its product as STONE and STONES even before Stone Brewing's use of STONE, Stone Brewing had complained to MillerCoors eight years earlier but had not followed through, Stone Brewing had misrepresented the actual redesigned Keystone can, and the respective products targeted different drinkers and had different packaging and outlets.
This continuing battle will be interesting to watch. Stone Brewing Co., LLC v. Molson Coors Brewing Co., Case No. 18CV0331 (S.D .Calif. 2018).
Even a non-beer mark may be a problem
When you select a trademark for your new beer, include all beverage alcohol product categories, not just beer, and also include soft drink brands, when you are considering your proposed mark's availability.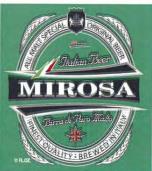 In 2016, Kathy Wade registered MIROSA for beer, ale, lager, stout, porter and shandy, claiming use since 2007. E. & J. Gallo Winery petitioned to cancel that registration on the ground that there was a likelihood of confusion with its previously used and registered mark MIRASSOU for wine.
Although the TTAB said that each case must stand on its own facts, it mentioned that past cases had found that beer and wine or other alcoholic beverages are similar for this purpose. The issue is not whether the products would be confused but rather whether their source would be likely to be confused.
In this case, the TTAB found that the MIRASSOU mark was strong, the goods would travel in the same trade channels (restaurants, bars, liquor stores and convenience stores) to ordinary consumers who use little or no care in purchasing such relatively inexpensive items, and the marks were somewhat similar. So the TTAB ordered the MIROSA registration cancelled. E. & J. Gallo Winery v. Wade, Cancellation No. 92063116 (T.T.A.B. 2017).
Famous images or marks, even if unrelated to beer, may require permission
Thelonious Monk Musician / Brother Thelonious Ale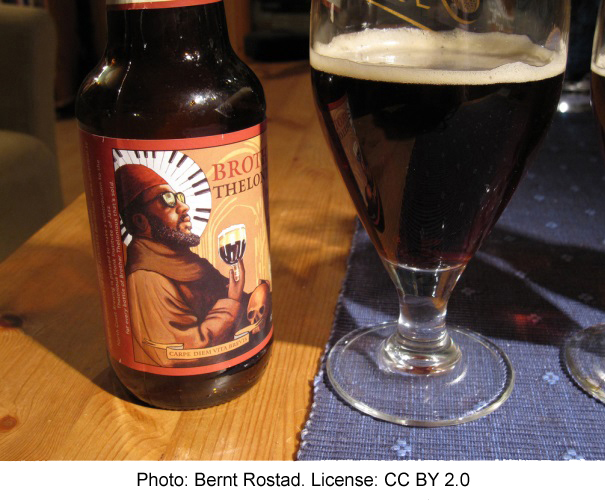 There was a verbal agreement between North Coast Brewing Co. Inc. and Thelonious Sphere Monk, Jr., representing the estate of his father Thelonious Sphere Monk, who died in New Jersey in 1982. The agreement allowed the brewery to use Monk's name, image and likeness for the limited purposes of marketing and distributing BROTHER THELONIOUS ale in exchange for donating a portion of the profits to the Thelonious Monk Institute of Jazz. So far, so good.
Monk Jr. discovered that North Coast was using the Monk persona on merchandise such as cups, hats, hoodies, iron-on patches, soap, t-shirts, tap handles, metal and neon signs, pins, playing cards, mouse pads, posters, and food products. Monk Jr. considered this outside the scope of the agreement, so he terminated the agreement. Thereafter, he sued in the U.S. District Court for the Northern District of California asserting claims characterized by the court as false endorsement, violation of New Jersey's common law right of publicity and breach of an oral contract.
North Coast moved to have the case dismissed, but the Court denied that motion. So the case goes on. Thelonious Monk, Jr. v. North Coast Brewing Co. Inc., Case No. 17-cv-05015 (N. D. Calif. 2018).
RADAGAST Fictional Character / RADECAST Beer

An Atlanta brewery, formally named American Beerworks LLC, was started by Stone Brewing's former head brewer. It adopted the trade name New Realm Brewing Company, and filed an intent to use application to register RADEGAST as a trademark for beer.
On February 27, 2018, this application was opposed by The Saul Zaentz Company, which claims to own the worldwide stage, screen and merchandising rights for The Hobbit and The Lord of the Rings in which a character named "Radagast" appeared. Saul Zaentz has registered RADAGAST as a trademark for a wide range of products, including mugs.
The complaint alleges that RADAGAST has become famous, and that the applicant's mark RADEGAST (which differs from the opposer's mark by only the letter E) creates a likelihood of confusion. The complaint also alleges trademark dilution since applicant's mark will blur the distinctiveness of the opposer's allegedly famous mark, and will tarnish opposer's goodwill because the opposer has no control over the quality of the applicant's goods.
This is another case to watch. The Saul Zaentz Co. v. American Beerworks LLC, Opposition No. 91239735 (T.T.A.B. 2018).
Empire State Building Image / NYC Beer Logo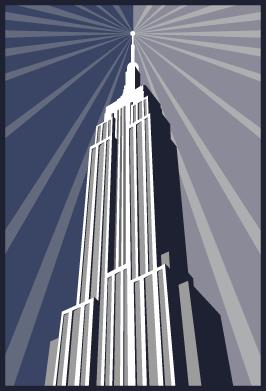 The owner and operator of our client, the Empire State Building, has several federal design mark registrations of images of its iconic building, and uses other images as well. A couple of years ago, an individual named Michael Liang applied to register, as a trademark for beer, a logo that incorporated a version of one of these images. Our client opposed, claiming, among other things, that this would dilute the distinctiveness of our client's famous image.
The TTAB held that the applicant's mark would dilute the famous Empire State Building mark, even though our client had not used or licensed its mark for beer. So the registration was refused. ESRT Empire State Building, L.L.C. v. Michael Liang, 2016 TTAB LEXIS 270 (T.T.A.B. 2016).
Consent agreements between brewers must be carefully drawn to be valid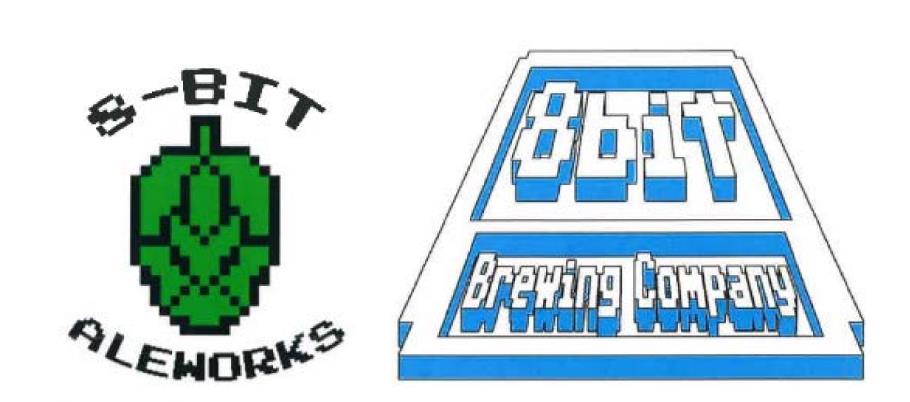 8-Brewing LLC applied to register 8-BIT ALEWORKS (in plain letters) for beer. When the examining attorney refused registration based on the registered mark 8-BIT BREWING COMPANY, also for beer, the applicant submitted a consent agreement between the parties.
Normally, such an agreement is entitled to "great weight" because the parties are considered to know what is best for them. But in this case, both the examining attorney, and the TTAB on appeal, rejected this consent agreement as not being sufficiently detailed:
An exhibit to the agreement showed the marks only in the design forms shown above, so it was not clear that the registrant consented to the plain lettering of the applied-for mark
The statement that the parties were unaware of any actual confusion was weak, given a mere five months of coexistence
There was no price or trade channel differentiation
The statement that the parties would use their respective marks in California and Arizona did not mention other states, and no geographic limitation was included in the application or registration
No provision was made to diminish the likelihood of confusion for ordinary beer consumers who exercise only ordinary care
The agreement to use commercially distinct product packaging had no examples and was of little importance since the application was for a mark in plain letters.
In re 8-Brewing LLC, 2017 TTAB LEXIS 413 (T.T.A.B. 2017)
Editor's Note: About one year earlier, the consent agreement in another beer case had a similar result. In re Bay State Brewing Co., Inc., 2016 TTAB LEXIS 46 (TTAB 2016) (Application for TIME TRAVELER BLONDE refused because of a registration of TIME TRAVELER, both for beer, despite a consent agreement).
About Cowan, Liebowitz & Latman
We are very familiar with the craft beer and beverage alcohol industries. Our clients include craft breweries, wine producers, and retailers, and we represent start-ups as well as some of the world's leading alcoholic beverage companies.
Our accumulated knowledge and experience enable us to approach legal problems from an advanced starting point, so we do not have to learn at your expense. Our focus is on delivering practical and positive results.
We were founded over 60 years ago, and are recognized worldwide as a leading intellectual property law and litigation firm. We are also experienced in the areas of corporate and commercial law, customs, international cargo and regulatory compliance, information technology, real estate law, tax law, trusts and estates and military law. We draw talent from our different practice groups to meet your unique needs in the most efficient and cost-effective manner.
Robert J. English has concentrated on the brewery industry. Our other attorneys with experience in the beverage industries include William M. Borchard, Mary A. Donovan, Kieran G. Doyle, Meichelle R. MacGregor, Joel Karni Schmidt, and Deborah K. Squiers.
Prior results do not guarantee a similar outcome.
Attorneys
Practice Areas
Industries