Legal 500 United States 2022 edition named CLL nationally in Tier 1 for Copyright Law, in Tier 2 for Trademark Litigation, and in Tier 2 for Prosecution, Portfolio Management and Licensing
06.01.2022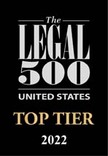 The Legal 500 United States 2022 named CLL nationally as a Top-Tier firm in Tier 1 for Copyright law:
The powerhouse team at boutique New York firm Cowan, Liebowitz & Latman, PC remains a market leader, representing major multinational clients involved in high-value copyright prosecution and litigation across a broad span of industries. The practice is headed by Jonathan King, who manages complex disputes involving clients in the music and music publishing sectors with clients including Warner Music Group, Universal Music Group, and Capitol Records, along with Thomas Kjellberg and Richard Mandel. Richard Dannay brings expertise to advising major book publishing clients such as Penguin Random House, navigating issues concerning fair use. Eric Shimanoff brings a long track record of experience acting at the state and federal levels, and in proceedings before the Trademark Trial and Appeal Board and UDRP panels, on behalf of clients in the cosmetics, fashion, financial services, food and entertainment industries
It also named CLL nationally in Tier 2 for Trademark Litigation:
The experienced team at boutique New York firm Cowan, Liebowitz & Latman, PC continues to safeguard the portfolios of major global brands such as J. Crew, Universal Music Group and Sony Pictures Entertainment throughout national and international court litigations, trademark office and domain name enforcement matters. Richard Mandel heads the practice, representing TV and film, music, fashion, food and tobacco clients in trademark disputes before the federal courts and the Trademark Trial and Appeal Board. He works closely with firm chair Jonathan King, who brings to the practice over 30 years of trademark litigation experience. Eric Shimanoff manages trade dress infringement cases across the financial services, manufacturing and information services sectors. Mary Kevlin acts for Major League Baseball in opposition and cancellation proceedings with Maryann Licciardi, who also handles complex domain name disputes. Joelle A. Milov was promoted to special counsel in January 2022.
In addition, it recommended the firm nationally in Tier 2 for Trademark Prosecution, Portfolio Management and Licensing:
With its experienced team, New York firm Cowan, Liebowitz & Latman, PC specializes in the registration, maintenance and enforcement of the portfolios of major global brands such as Barclays Bank, Sony Pictures, Maserati and Major League Baseball. The team is headed by counselling and prosecution expert Deborah Squiers, whose client base spans the entertainment, financial services, food and restaurant sectors. The group is supported by trademark law authority William Borchard and Joel Karni Schmidt, who acts for start-ups, fashion and lifestyle companies, and video game design companies. In addition, Kieran Doyle brings expertise to clients in the publishing, footwear and medical marijuana areas. Robert English manages complex international enforcement matters for clients in the craft beer, software, apparel, advertising, and beauty industries. In January 2022, Jeffrey Chery, who handles domestic and international enforcement issues, was promoted to partner, and Joelle A. Milov, who specializes in domain name disputes, was appointed counsel.
The Legal 500 United States is published by Legalese Ltd. Their team of experienced researchers – which includes both qualified journalists and lawyers – spend several months each year conducting in-depth research into the market. The primary source of their information is the law firms themselves, and the information they provide is often not for public consumption. This allows the publication to properly assess the firms against one another, practice area by practice area. They also gather feedback from peers and clients to assess overall visibility and reputation. The process culminates in detailed rankings and editorial, providing buyers of legal services with an objective analysis of the US market that is updated annually. They organize each practice area into a single national ranking, eschewing a state-by-state approach. They do not rank individual lawyers, but they do highlight certain key individuals within the editorial paragraphs. Their principal aim is to provide a snapshot of the market based on their assessment of the overall strength and depth of a practice group. More information about their methodology is available here.
See more Honors & Rankings.