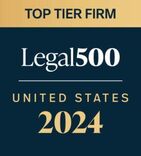 Legal 500 United States 2020 edition named CLL nationally in Tier 1 for Copyright Law and for Trademark Litigation, and in Tier 2 for Prosecution, Portfolio Management and Licensing
05.30.2020
The Legal 500 United States 2020 named CLL nationally as a Top-Tier firm in Tier 1 for Copyright law.
Music and book publishing are the two key areas of focus for Cowan, Liebowitz & Latman, PC. Eric Shimanoff is a name on the music side, having recently acted for Warner Music, Sony Music and Orchard Enterprises, collectively, in a dispute against ROK Mobile for the non-payment of royalties for recordings streamed by the defendants. Richard Mandel and Thomas Kjellberg are also names to note in the music space; together, the two advised UMG Recordings in a class action brought by a number of recording artists seeking to reclaim their publishing rights. Mandel also worked alongside Jonathan King for Capitol Records in seeking an injunction and damages against ReDigi which allegedly enabled purchasers of online digital recordings to re-sell them. Book publishing work is primarily handled by Richard Dannay, who recently represented Dover Publications in a dispute where an artist claimed [her] teddy bear illustration [was] infringed [in a] work published by the client.
It also recommended the firm in Tier 1 for Trademark Litigation:
Cowan, Liebowitz & Latman, PC's sizeable New York team stands out for its work in the sports, entertainment and retail sectors. The practice group is jointly led by three partners: Jonathan King, a key advisor for well-known brands such as DKNY and [Universal Music Group], who also has extensive experience before the federal courts and TTAB; Richard Mandel, a seasoned litigator, with further expertise in mediation and arbitration; and Eric Shimanoff, who acts for some of the firm's biggest clients, including Barclays Capital, Sony Pictures and Columbia University. The team is also strong in cross-border enforcement and protection work, recent examples of which saw Meichelle MacGregor advising E-Z Weld Adhesive on actions against counterfeiters in India, and Kieran Doyle acting for QVC in a dispute against German company Quelle regarding similar logos using the letter 'Q'. Deborah Squiers is also recommended.
It also recommended the firm in Tier 2 for Trademark Prosecution, Portfolio Management and Licensing
Based in New York, Cowan, Liebowitz & Latman, PC's trademarks group attracts praise for its 'keen strategic sense' and 'thorough understanding of the law'. The practice group is headed by Deborah Squiers, who is highly skilled in trademark counseling and prosecution on a global scale. Joel Karni Schmidt is especially active in the areas of hospitality and fashion, and Mary Kevlin manages the trademark portfolios of clients including Major League Baseball. The sizable team also includes trademark licensing specialist Lynn Fruchter and Meichelle MacGregor, who has expertise in domain names and e-commerce issues. Also recommended are Mary Donovan, an expert in international trademark and licensing, and Kieran Doyle, who is active in the nascent marijuana industry. Clients also benefit from the firm's 'Cowan Connect' service, which provides online access to trademark records at all times.
The Legal 500 2020 elite "Hall of Fame" list of outstanding lawyers nationwide named William Borchard and Richard Dannay for Copyright, and William Borchard for Trademarks: Non-Contentious. It also named Kieran Doyle in its "Next Generation Partners" list for Trademarks: Non-Contentious.