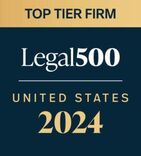 Legal 500 United States 2021 edition named CLL nationally in Tier 1 for Copyright Law and for Trademark Litigation, and in Tier 2 for Prosecution, Portfolio Management and Licensing
06.09.2021
The Legal 500 United States 2021 named CLL nationally as a Top-Tier firm in Tier 1 for Copyright law.
It also recommended the firm in Tier 1 for Trademark Litigation:
Cowan, Liebowitz & Latman, PC covers the full range of matters related to copyright law, and stands out in particular for its experience in copyright litigation for clients in book and music publishing. Based in New York, the team is noted for its expertise in handling photograph copyright matters and dealing with copyright trolls. Practice head Jonathan King deals with significant and highly controversial music publishing copyright issues. Litigator Thomas Kjellberg has drafted amicus curiae briefs on behalf of key organizations in the music industry. Richard Dannay is often lead counsel on major copyright cases. Additionally, Richard Mandel is known for extensive copyright litigation work and Eric Shimanoff is highly regarded for advising clients in the music and technology sectors.
It also named CLL nationally as a Top-Tier firm in Tier 1 for Trademark Litigation:
Based in New York, the team at Cowan, Liebowitz & Latman, PC provides 'effective, efficient, and practical advice' to its clients on a wide range of trademark issues, including infringement and counterfeiting, and matters relating to domain names. Its clients include digital pharmaceuticals, retail brands, and advertisers, as well as major media, film publishers, and sports teams. Practice chairman Jonathan King is highly experienced leading on trademark litigation in the Trademark Trial and Appeal Board. Also recommended are Richard Mandel, who has extensive expertise in trademark arbitrations and federal court cases, and Eric Shimanoff, who litigates on behalf of well-known brands and regularly leads on domain name arbitrations.
In addition, it recommended the firm nationally in Tier 2 for Trademark Prosecution, Portfolio Management and Licensing:
The New York-based trademark prosecution team at Cowan, Liebowitz & Latman, PC provides solid nationwide coverage and has also built relationships with domestic counsel in other jurisdictions to provide comprehensive advice on international trademark prosecution. Advising on a full range of trademark and domain name matters, practice leader and 'top-notch trademark lawyer' Deborah Squiers is recommended for enforcement, counseling, and prosecution, both in the US and internationally. She works alongside counsel Lynn Fruchter, who focuses on trademark licensing in the entertainment, financial services, and cosmetic sectors. Joel Karni Schmidt is singled out as an 'outstanding strategist', and a key resource for clients in the hospitality sector; Mary Kevlin manages the trademark portfolios of major brands such as Major League Baseball; Kieran Doyle litigates for clients in the publishing, medical marijuana, and fashion industries; and William Borchard has experience of trademark clearance, registration, and infringement claims. Also recommended in this space are Meichelle MacGregor and Mary Donovan.
The Legal 500 2021 elite "Hall of Fame" list of outstanding lawyers nationwide named William Borchard and Richard Dannay for Copyright, and William Borchard for Trademarks: Non-Contentious. It also named Kieran Doyle in its "Next Generation Partners" list for Trademarks: Non-Contentious.